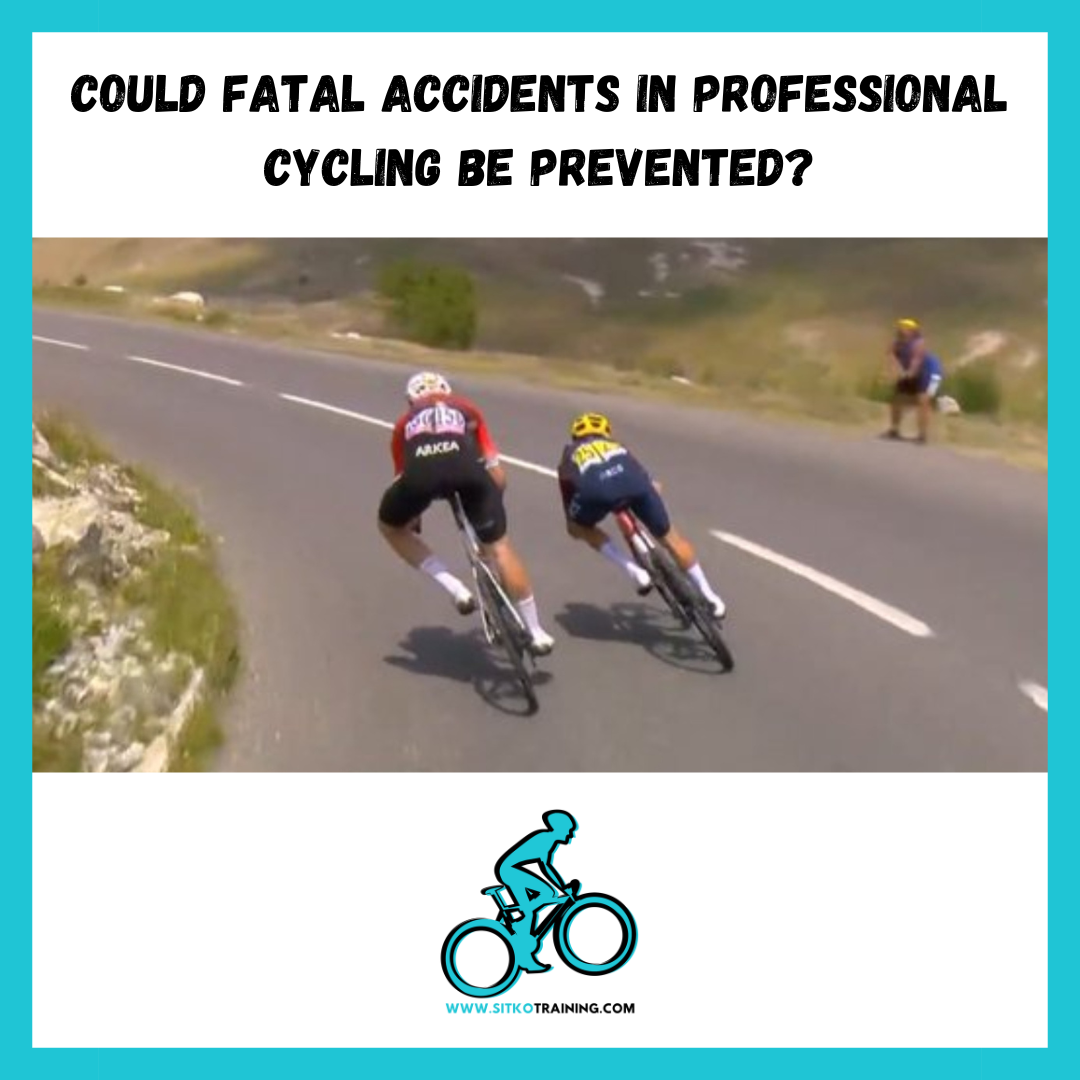 The world of cycling has been shaken this week by the umpteenth tragedy that occurred in competition: Gino Mäder died as a result of injuries sustained after a fall at very high speed while descending the Albula Pass in the Tour of Switzerland. Every time we witness similar disasters, the entire cycling world  looks for the cause of the misfortune as well as possible culprits. In a clear case of action-reaction, measures are immediately sought that could have prevented the death or at least prevent a similar accident from happening again in the future. In this specific case, the focus has been placed on the organizers of the race, for having included a stage with a downhill finish. I would like to briefly analyze the circumstances of this case, assess whether this accusation is really appropriate and, ultimately, reflect on the discipline itself and its intrinsic dangers.
Is road cycling inherently dangerous?
Professional road cycling has accustomed us, whether we like it or not, to fatal accidents that occur with a certain periodicity: rare is the five-year period in which there are not at least two deaths in the highest level competition. Obviously these are figures that heartbreak every fan of this sport since we are talking about young lives that are cut short while exercising a passion that has become a profession. However, and although at the moment the last tragedy experienced is still so fresh, I would like to make a very cool reflection: We are talking about a sport made up of several hundred professionals that:
1- compete an average of 50-60 days a year each
2- 3-6h each of those days
3- ride in a peloton 2cm from the next tubular
4- at speeds approaching 100km/h on steep descents, which are sometimes wet
5- many days at temperatures incompatible with healthy physical activity
6- With a helmet and lycra clothing as the only protection against traumatic impacts
Reviewing these factors and returning to the accident and mortality figures, we can conclude that the number of serious accidents, let alone fatalities, is extremely low for the danger of the discipline itself. Obviously, the very high degree of expertise that professional cyclists show every day almost completely explains this low accident rate. Once the discipline itself has been contextualized and returning to what really interests us (that serious and fatal accidents are minimized), I move on to the analysis and reflection that has motivated us to get here.
Was Gino's accident preventable?
The fateful accident of the Tour of Switzerland has occurred in the descent of the Albula Pass. It is a climb that I have descended half a dozen times in my life and I can affirm emphatically that it is not a dangerous descent compared to many others that we experience year after year in professional cycling: wide road and in good condition, open curves and with good visibility, and also propitious weather and dry asphalt on the day of misfortune. We don't know exactly what caused Gino to lose control of his bike, but it really doesn't matter. At the speeds at which he was traveling (90km/h) a touch with another rider, a small stone on the asphalt or any other factor that unbalances you leads to an impact of unimaginable magnitude. Why was he descending so fast? Because it was the end of the stage and because riders of this caliber have great control even at such high speeds. This has led some professional cyclists and many amateurs to complain about downhill finishes.
Obviously, if we prohibit downhill finishes, there will be no more accidents in a downhill finish. But what about all the other descents that are made throughout the year? Many of which are much more dangerous than the Albula Pass and, due to race circumstances, are also carried out at high speed (breakaway formation, pursuits, broken race far from the finish line, etc). As you can see, dead dogs don't bite. Or in fact they do? Cycling is a sport that requires different skills: going up, down, on the flat, sprinting, etc. Downhill finishes open up the races to a different cyclist profile and allow for different strategic approaches. Suppressing them is not going to prevent downhill accidents from continuing to occur and it is going to annul one of the nice aspects of this sport.
Are all fatal cycling accidents preventable?
Gino's tragedy occurred either because the rider had the situation under control but an external factor got in his way (another rider, obstacle on the road, etc.) or because he lost control on the descent in a race to the limit situation. Either of the two cases is unpredictable and will happen again in the future due to mere statistics, just as work accidents occur in other professions despite attempts to minimize the risks. Professional cycling is full of extremely risky situations, many times caused by the impetus of the team managers and the riders themselves: see the increase in falls that occur at the end of the stages, due to the nervousness of a peloton that intends to that 40 cyclists are always in the first positions. For this case, curious alternatives have been proposed such as taking the general times at 5, 7 or 10km from the finish line, a fact that would only advance nervousness and falls at those same kilometers. For downhill falls like Gino's, it has been proposed to install protective fences as in alpine skiing, I think without falling into the peculiarity that alpine skiing is carried out in fixed location facilities. I have no doubt that the Tour de France has the financial means and the necessary staff to carry out such work, but I very much doubt that we can enjoy such protection in a race like the 4 days of Dunkirk…
In professional cycling we have witnessed numerous fatal accidents at different junctures: Kivilev, Sanroma or Casartelli would surely have saved their lives if they had worn a helmet, which was introduced after the fact to avoid these outcomes. In contrast, Lambrecht or Weylandt died in circumstances that were difficult to prevent. In a third category we have cases such as the sprint of the Tour of Poland in which Jakobsen almost lost his life, a true aberration, the organizer's fault. Obviously you have to avoid downhill sprints with improper fencing like the one in Poland or suicidal descents like the one on Mount Crostis in the Giro. But what do we do to achieve zero risk, do we finish San Remo at the top of the Poggio? Do we avoid massive sprints? And the team time trials? We can make every race a continuous flat that ends on a garage ramp, or better yet, we all race on Zwift to avoid going out on the streets. Yes, the streets, because let's remember what happened with Scarponi and Rebellin in a sport in which the professional cyclists rides 25 hours a week between cars…
It is paradoxical, but many of those who are so vocal against descents these days are the same ones who get excited while watching Mohoric risk his life in the Poggio or get motivated while watching Pidcock descending Galibier like a Formula 1. We need to reflect a little…
Sebastian Sitko
Professor of Sports Sciences at the University of Zaragoza, Doctor in Sports Sciences, Master's degree in high performance sports by the French Olympic Committee, National Cycling, Triathlon and Athletics coach and official coach for the American College of Sports Medicine.